Smokra I09CAW Disposbale Pod Device
Smokra(I09CAW) 3300puffs,10ml,950mAh,support Micro USB recharging,Airflow Adjustable and Atomization Window
| | | | | | | |
| --- | --- | --- | --- | --- | --- | --- |
| 950mAh | 1.2Ω | 10ml | 25-50mg | 3300puffs | Micro USB recharging | Airflow Adjustable |
| BATTERY | RESISTANCE | E-LIQUID CAPACITY | NICOTINE | PUFFS | CHARGING | ADJUSTABBLE |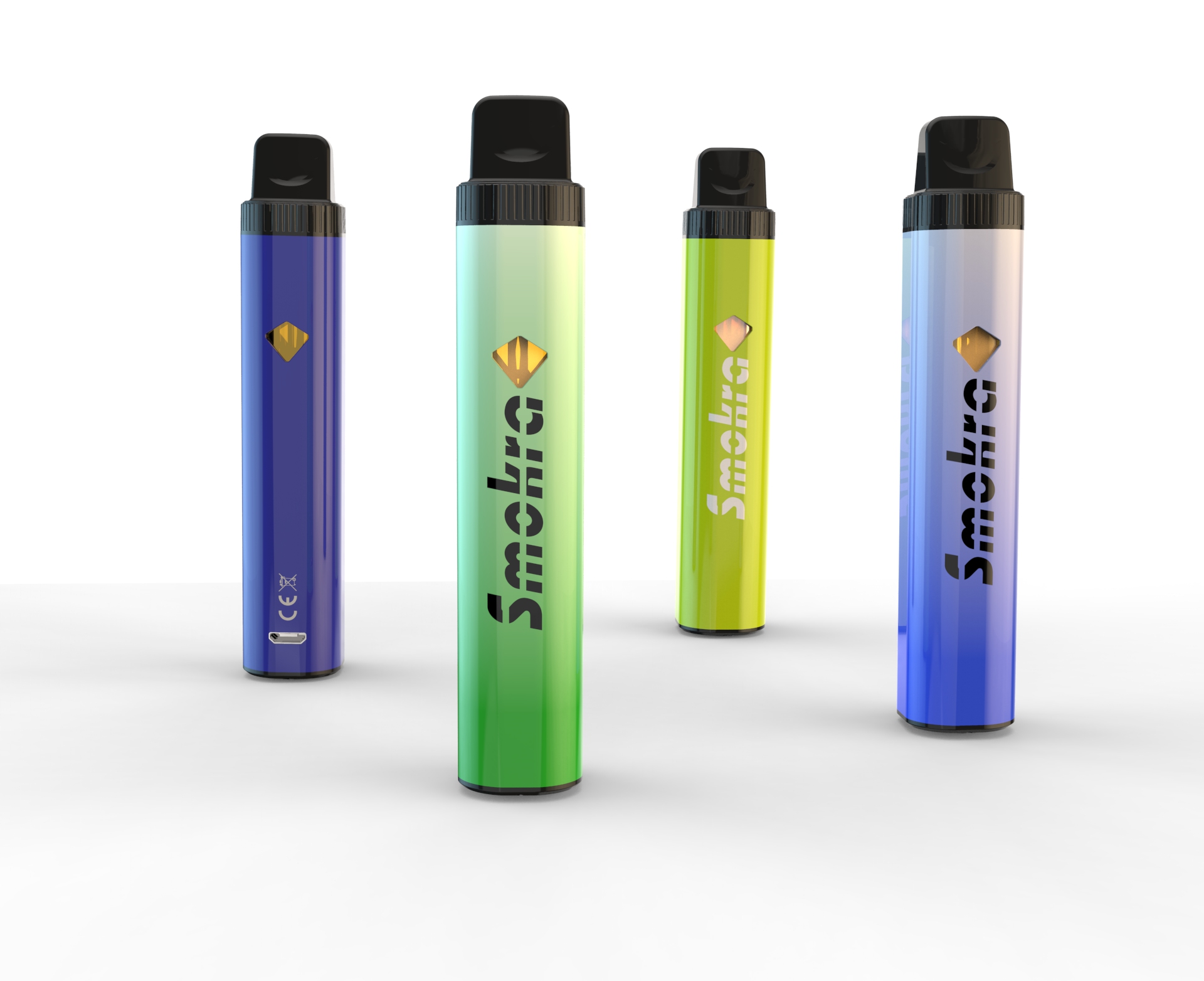 Smokra I09CAW Disposable Pod is created to realize extremely easy vaping experience and pure SaltNic satisfying. 950mAh built-in battery, support recharging.
Smokra I09CAW Disposable Kit is designed as disposable devices for leisure vaping, made of aluminium material & providing comfortable handfeeling. Each device contains 10ml e-liquid of 50mg nicotine & 18 kinds of flavors, with a battery of 950mAh to keep the device running up to 3300puffs.
Ultra tiny and use-friendly design, 8ml liquid capacity and 950mAh battery support 3300 puffs.
5% nit-salt provides outstandingly smooth and tasteful throat hits. You gonna know it if you try :)
Now 26 flavors in total, more is coming.
ALOE GRAPE,APPLE PEACH,BANANA CUSTARD,BANANA ICE,BLUE RAZZ,BLUE RAZZ ICE,BLUEBERRY ICE,BUBBLE GUM,CHERRY LEMONADE,COCONUT ICE,COFFEE TOBACCO,COLA ICE,COTTON CANDY,ENERGY DRINK,ENERGY JUICE,FIRE ICE,GRAPE ICE,GRAPE PARADISE,GRAPE SODA,GREEN BEANS,GUAVA MANGO,GUMMY BEAR,HONEYDEW PUNCH,KIWI LEMONADE,KIWI STRAWBERRY,KRAZY KUSTARD,LEMON CRUMBLE,LUSCIOUS STRAWLYCHEE,LUSH ICE,MAMBA,MANGO,MANGO ICE,MELON ICE,MINT ICE,MIXED BERRIES,NEON RAIN,ORANGE ICE,PEACH ICE,PEACH MANGO WATERMELON,PEACH OOLONG,PIÑA COLADA,PIÑA COLADA ICE,PINEAPPLE ICE,PINEAPPLE PEACH MANGO,PINK LEMONADE,RASPBERRY WATERMELON,SOUR APPLE,SOUR APPLE ICE,SOUR APPLE KIWI,SPARKLING ORANGE,SPEARMINT,STRAWBERRY BANANA,STRAWBERRY ICE CREAM,STRAWBERRY LEMON,STRAWBERRY WATERMELON,STRAWERRIES & CREAM,STRAWERRY YOGURT,STRAWMELON APPLE,WILD GOLDEN APPLE;
---
Physical Parameter:
Model:I09CAW
Size:φ20×109mm
Net weight:60g
Coil resistance:1.2Ω
Tank capacity:10ml
Battery capacity:950mAh
Color:OEM
Charging:Micro USB
Puffs:3300puffs
Support Airflow Adjustable and Atomization Window